Thursday, July 12, 2012
'Still on my Mind' is a meme inspired by Haley at YA-Aholic
Every Thursday you will feature a book that you read months or even YEARS ago that was so good (or so scary/unique/funny..etc) that it is 'Still on my (your) Mind!'
Please include in your post:
1. The summary of the book (off of goodreads or amazon or whatever!)
2. Make sure you tell us why it is still on your mind, was it super amazing? Super Unique? Super Scary?
MY PICK:
The Vampire and the Virgin by Kerrelyn Sparks
*image and Synopsis via Goodreads*
"New York Times"-bestselling author Sparks continues her popular Love at Stake series with battle-weary vampire Robby MacKay, who finds love while on vacation. Original
MY THOUGHTS ON 'STILL ON MY MIND':

Get Me Off The Shelf! is my edition of From the Review Pile from*Stepping Out of the Page*hosted by Stephanie. This will be a weekly meme on Thursdays
The aim of this meme is to showcase books that you own but haven't yet got around to reading, in order to give the book some extra publicity. I thought it'd be helpful to readers/reviewers as well as publishers/authors to try and showcase books that you own but haven't had time to get around to.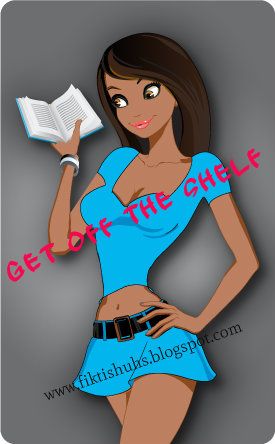 This week I'm spotlighting:
Blue Moon



(The immortals, book 2)


By Alyson Noel
Paperback
Pages: 289
Published: July 7th 2009
Publisher: by St. Martin's Press
Synopsis via Goodreads:

Alyson's Noël's bestselling Immortals series has been hailed as "addictive" "beautiful" "haunting" and "mesmerizing." In the second installment, Ever can bring her family back from the dead—but only if she's willing to sacrifice the guy she loves more than life itself.

Just as Ever is learning everything she can about her new abilities as an immortal, initiated into the dark, seductive world by her beloved Damen, something terrible is happening to him. As Ever's powers are increasing, Damen's are fading—stricken by a mysterious illness that threatens his memory, his identity, his life.

Desperate to save him, Ever travels to the mystical dimension of Summerland, uncovering not only the secrets of Damen's past—the brutal, tortured history he hoped to keep hidden—but also an ancient text revealing the workings of time. With the approaching blue moon heralding her only window for travel, Ever is forced to decide between turning back the clock and saving her family from the accident that claimed them—or staying in the present and saving Damen, who grows weaker each day...
MY THOUGHTS:
I liked the first book in the series, Evermore. I had to get the second book, but then I went astray and started reading Charlaine Harris' Sookie Stackhouse series.
Oh well, I'll get to it one day ... maybe.
RATING!!!
Existence
by Abbi Glines
Publisher Date: December 13, 2011
Publisher: eBook
Pages: 194
Well let me start out by saying . . Not one, but TWO male candy. Dank and Leif are so hot!!!
SYNOPISIS
What happens when you're stalked by Death? You fall in love with him, of course. Pagan Moore doesn't cheat Death, but instead, falls in love with him.

Seventeen year old Pagan Moore has seen souls her entire life. Once she realized the strangers she often saw walking through walls were not visible to anyone else, she started ignoring them. If she didn't let them know she could see them, then they left her alone. Until she stepped out of her car the first day of school and saw an incredibly sexy guy lounging on a picnic table, watching her with an amused smirk on his face. Problem is, she knows he's dead.

Not only does he not go away when she ignores him, but he does something none of the others have ever done. He speaks. Pagan is fascinated by the soul. What she doesn't realize is that her appointed time to die is drawing near and the wickedly beautiful soul she is falling in love with is not a soul at all.
He is Death and he's about to break all the rules.
COVER:
I think the cover portrays Dank being protective of Pagan. His eyes are brilliant blue with a glowing effect which is what I imagined him looking like in the story. A few times throughout reading this book, I had to go back to the cover and see this iCandy.

MY THOUGHTS:
I am a new Abbi Glines fan! This is the first book that I've read of her's and now downloading more of her books on my Kindle. I read this book in two days, but could have done so in a half-day. But you know, I was on vacation with the family, so couldn't escape to read. This was just such a great read! You have romance, suspense, twists and turns throughout the story. I loved the love triangle that Abbi Glines created. Both guys, Dank and Leif had mystery, sex appeal, and made you feel safe. From beginning to end it was a page turner. I never lost interest or wanted to "skip over a few pages". This fantastic paranormal romance held my attention throughout the whole story and had me craving for more!
The forbidden love story between Dank and Pagan was awesome! They had many obstacles to overcome, which I felt made it all the sweeter for the two; the closeness even when apart was still there. Dank is so dark and mysterious. I love that he is not only Death, but a rock start too! Pagan at times could be a bit dramatic, but she sees souls so I'll give her a break, she can be as dramatic as she wants. Pagan was sweet and unselfish.
Leif and Pagan's relationship (unknown to Leif) was based on security and only that. I think at first Pagan seemed to see Leif as a possible boyfriend, but the closer her and Dank got the less she thought Leif as boyfriend material. Leif was just that guy you could always count on; just so lovable. I was actually rooting for Leif during most of the story, but at the ending is a shocker cliffhanger and now I'm wondering who or what Leif is.
The other characters in the story were well developed and believable. Fun, quirky, stand by your side, type of friends.
I really enjoyed the character Gee. What a twist on her character! I was fooled. I hope she is in the second book.
SUM IT ALL UP ...

If you haven't read any of Abbi Gline's novels, you've got to start now! My next read is

Predestined

which is the sequel of

Existence.
Disclaimer:
I do not receive or accept any money for my book reviews. All my reviews are my honest and personal opinion. I do however, receive books from publishers and authors for free to review. These free books will never influence the content, posts, reviews, and topics made in this blog.

*Images and Synopsis is via Goodreads,unless otherwise stated*