Tuesday, July 10, 2012
Teaser Tuesday is a meme hosted by MizB
of *Should Be Reading*

Anyone can play along! Just do the following:
1. Grab your current read
2. Open to a random page
3. Share two (2) "teaser" sentences from somewhere on that page. BE CAREFUL NOT TO INCLUDE SPOILERS! (make sure that what you share doesn't give too much away. You don't want to ruin the book for others)
4. Share the title & amp, author too, so that other Tuesday Teaser participants can add the book to their TBR lists if they like your teaser.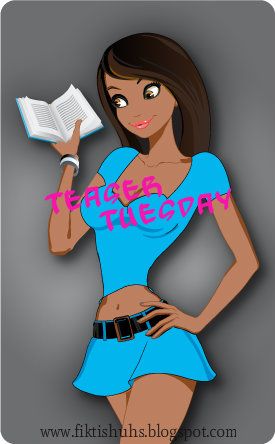 Predestined
by Abbi Glines
Kindle Edition
Published March 29th 2012
You would think after helping save her boyfriend from an eternity in Hell that things would go back to normal. Well, as normal as life can be when you can see souls and your boyfriend is Death. But for Pagan Moore, things are just getting weirder.

The high school quarterback and reigning heartthrob, Leif Montgomery, is missing. While the town is in a frenzy of worry, Pagan is a nervous wreck for other reasons. Apparently good 'ol Leif isn't your average teenage boy. He isn't even human. According to Death, Leif doesn't have a soul. The quarterback may have skipped town but he's still showing up in Pagan's dreams... uninvited.

Dank has known from the beginning Leif wasn't human. But he hadn't worried about a simple soulless creature. Now, he realizes he made a grave mistake. Pagan's soul has been marked since birth as a restitution, to a spirit so dark not even Death walks near it. Dank knows saving Pagan's soul won't be easy but Pagan is his. And he's already proven he'll defy Heaven to keep her. If Hell wants a piece of him too, then bring it on.
*image and synopsis via Goodreads*
Here's my teasers! :
"Pagan, your eyes," he reached out and cupped my face with his hands as he studied me. Death wasn't supposed to fear anything; yet I could see it in every crease of his frown."
Romance Ramblings is my weekly spotlight on Erotica & Historical Romance novels here on FIK*TISH*UHS Reviews. Here I will ramble on about new romance book releases, mini book reviews, upcoming romance books, and ramble, ramble, ramble, on about romance.
Today's Spotlight:
Scandal Wears Satin (Dressmakers, #2) by Loretta Chase
Paperback, 384 pages
Published: June 26, 2012
Publisher: Avon
From the Journals of Sophia Noirot: A dress is a weapon. It must dazzle his eye, raise his temperature . . . and empty his purse.
A blue-eyed innocent on the outside and a shark on the inside, dressmaker Sophy Noirot could sell sand to Bedouins. Selling Maison Noirot's beautiful designs to aristocratic ladies is a little harder, especially since a recent family scandal has made an enemy of one of society's fashion leaders. Turning scandal to the shop's advantage requires every iota of Sophy's skills, leaving her little patience for a big, reckless rake like the Earl of Longmore. The gorgeous lummox can't keep more than one idea in his head at a time, and his idea is taking off all of Sophy's clothes.

But when Longmore's sister, Noirot's wealthiest, favorite customer, runs away, Sophy can't let him bumble after her on his own. In hot pursuit with the one man who tempts her beyond reason, she finds desire has never slipped on so smoothly . . .
MY THOUGHTS:

This seems to be a sizzling summer read! Oh, those 19th century women are so naughty and the men are delicious. The first book in this series is:
Silk is for Seduction(The Dressmakers, #1)
Mass Market Paperback, 359 pages
Published June 28th 2011 by Avon
The Theory of Attraction
by Delphine Dryden
ebook, 136 pages
Published: July 9,2012
Publisher: Carina Press
Camilla can set her watch by her hunky rocket-scientist neighbor who jogs past her window each day. She relishes each glimpse of his shirtless abs, and is dying to see more. But it's hard to connect with a man who doesn't seem to know she exists…

Ivan feels at home in the lab, not in social situations. When he finally approaches his attractive neighbor, it's not for a date—he wants tutoring in how to behave at an important fundraiser. Ivan doesn't expect the chemistry between them to be quite so explosive, and is surprised when Cami actually accepts his proposal to embark on a series of "lessons".

Cami soon discovers Ivan's schedule isn't the only thing he likes to be strict about—he needs to be charge in the bedroom as well. She's shocked at how much she comes to enjoy her submissive side, but wonders if a real relationship is in the equation…
MY THOUGHTS:
The cover says it all - sex, sex, and more sex in this short erotica story! It seems dominant/submissive relationships are the new steamy reads.
Disclaimer:
I do not receive or accept any money for my book reviews. All my reviews are my honest and personal opinion. I do however, receive books from publishers and authors for free to review. These free books will never influence the content, posts, reviews, and topics made in this blog.

*Images and Synopsis is via Goodreads,unless otherwise stated*