Wednesday, July 25, 2012
This meme Waiting on Wednesday is hosted by *Breaking the Spine* "Waiting On Wednesday" is a weekly event, that spotlights upcoming releases that we're eagerly anticipating.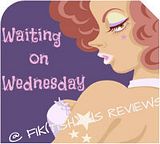 I'm anticipating the following upcoming books!!!
Touching Smoke(Touch Series #1)
by Airicka Phoenix
"What am I?"

"Mine… always!"

This summer… their love will annihilate the world!

For sixteen-year-old FALLON BRAEDEN, being haunted was just another day in the life of a gypsy, like being on the run had always been a closely guarded secret her mother would have happily taken to the grave… if her past hadn't caught with them.

But when Fallon is stalked by fire-throwing demons, nearly killed by rebel mutants and finds a soul mate she can never have, even her normally unusual life is thrown into a tangled web of love, lies and betrayal.

As worlds collide, secrets unfold and blood is spilt, Fallon comes to several unsettling revelations: she's not entirely human, her creator has a bounty on her head and the only one who can save her is the one person she has to keep at arm's length or risk destroying the world for.
MY THOUGHTS:
Lots of conflict with twists and turns, seems like this book has it all. I love it!!! And always those forbidden love interests get me every time.


Pushing the Limits
by Katie McGarry
Hardcover, 384 pages
Expected publication: July 31st 2012
Publisher: Harlequin Teen
"I won't tell anyone, Echo. I promise." Noah tucked a curl behind my ear. It had been so long since someone touched me like he did. Why did it have to be Noah Hutchins? His dark brown eyes shifted to my covered arms. "You didn't do that-did you? It was done to you?" No one ever asked that question. They stared. They whispered. They laughed. But they never asked.
So wrong for each other...and yet so right.

No one knows what happened the night Echo Emerson went from popular girl with jock boyfriend to gossiped-about outsider with "freaky" scars on her arms. Even Echo can't remember the whole truth of that horrible night. All she knows is that she wants everything to go back to normal. But when Noah Hutchins, the smoking-hot, girl-using loner in the black leather jacket, explodes into her life with his tough attitude and surprising understanding, Echo's world shifts in ways she could never have imagined. They should have nothing in common. And with the secrets they both keep, being together is pretty much impossible.Yet the crazy attraction between them refuses to go away. And Echo has to ask herself just how far they can push the limits and what she'll risk for the one guy who might teach her how to love again.

"An edgy romance that pulls you in and never lets go. I was hooked!"-Gena Showalter, New York Times bestselling author of the Intertwined series.
MY THOUGHTS:
I'm already liking Noah just from the synopsis. Loving myself some bad boy, who you can't help but fall for. Six more days ... six more days...

Share your WoW! I love comments and if you don't, I'll stalk you
:P

Thanks for reading <3
*Images and Synopsis via Goodreads*
Disclaimer:
I do not receive or accept any money for my book reviews. All my reviews are my honest and personal opinion. I do however, receive books from publishers and authors for free to review. These free books will never influence the content, posts, reviews, and topics made in this blog.

*Images and Synopsis is via Goodreads,unless otherwise stated*