Tuesday, August 7, 2012
Teaser Tuesday is a meme hosted by MizB
of *Should Be Reading*

Anyone can play along! Just do the following:
1. Grab your current read
2. Open to a random page
3. Share two (2) "teaser" sentences from somewhere on that page. BE CAREFUL NOT TO INCLUDE SPOILERS! (make sure that what you share doesn't give too much away. You don't want to ruin the book for others)
4. Share the title & amp, author too, so that other Tuesday Teaser participants can add the book to their TBR lists if they like your teaser.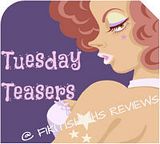 I'm in the middle of trying to figure out what to read next, so I'm reading samples of a few books on my Kindle to help make a choice. Remember I'm one of those, 'what am I in the mood for' kind of reader :) So I'm thinking about this one:
Crave (The Clann, #1)
by Melissa Darnell
Kindle Edition, first published in Oct. 18, 2011
"Even in the middle of a noisy mass of students, one girl's laugh grabbed my attention..."
"But every time Savannah colbert laughed, the husky sound somehow managed to reach out and twist up everything inside me."
Kindle sample, Location 405 of 465, 87%
"Sudden and total fear had me grabbing his shoulder at the base of his neck without thinking. I pulled his face close and growled, ''Are you out of your freakin' mind?" If any other descendant heard you talking like that and told the elders, you'd be history."
Kindle sample, Location 440 of 465, 94%
I love comments! Please share your teasers . . .
Disclaimer:
I do not receive or accept any money for my book reviews. All my reviews are my honest and personal opinion. I do however, receive books from publishers and authors for free to review. These free books will never influence the content, posts, reviews, and topics made in this blog.

*Images and Synopsis is via Goodreads,unless otherwise stated*