Tuesday, December 18, 2012
Teaser Tuesday is a meme hosted by MizBof *Should Be Reading*
Anyone can play along! Just do the following:
1. Grab your current read
2. Open to a random page
3. Share two (2) "teaser" sentences from somewhere on that page. BE CAREFUL NOT TO INCLUDE SPOILERS! (make sure that what you share doesn't give too much away. You don't want to ruin the book for others)
4. Share the title & amp, author too, so that other Tuesday Teaser participants can add the book to their TBR lists if they like your teaser.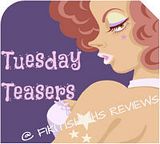 I'm ashamed to say ...
I'm still reading the same book from last week.
I've hadn't much time to read due to holiday chores.
Here's another awesome teasers is from the book:
by Jillian Dodd
"But it's hard to be concerned about a stupid random noise when Danny is lying on top of me, kissing me, one hand tangled in my hair, the other hand up my shirt."
Kindle Sample, Location 466 of 631, 73%



"Could I have been making out with Danny for two whole hours? Shit!!!!!!!!!"
Disclaimer:
I do not receive or accept any money for my book reviews. All my reviews are my honest and personal opinion. I do however, receive books from publishers and authors for free to review. These free books will never influence the content, posts, reviews, and topics made in this blog.

*Images and Synopsis is via Goodreads,unless otherwise stated*