Thursday, August 2, 2012
Get Me Off The Shelf! is inspired by *From the Review Pile from*Stepping Out of the Page*hosted by Stephanie.
The aim of this meme is to showcase books that you own, but just haven't got around to reviewing or read yet. It could be a book you bought yesterday or years ago. Maybe you even have a few books on your eReader just waiting to be swiped to open the pages.
It will also give the book some extra publicity!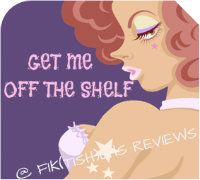 This week's 'Get Me Off the Shelf' book is on my Kindle:
Shimmerspell
Published: April 8th 2011
Synopsis:
When sixteen-year-old Jensen Meadows finds herself caught in the middle of an ancient faerie war, she soon learns that faeries aren't made of sparkly goodness. They're vicious. And worse, they're after her. With the help of Liam Casey, she delves into their world to find her missing sister and begins to suspect that her whole life has been nothing more than a faerie tale.
But maybe some truths should never be revealed..
MY THOUGHTS:
Okay, this was one of my,"It's so pretty, I've got to buy it." And I did, so it's been sitting on my Kindle list of books, waiting for me to swipe it open. It's seems to be a great story!
Like I always say ... I'll get to it one day ... maybe.
So share what's you need to 'Get off your shelf', eReader, floor, or box . . . I love comments! And if you don't, I'll stalk you :)
Disclaimer:
I do not receive or accept any money for my book reviews. All my reviews are my honest and personal opinion. I do however, receive books from publishers and authors for free to review. These free books will never influence the content, posts, reviews, and topics made in this blog.

*Images and Synopsis is via Goodreads,unless otherwise stated*