Wednesday, August 1, 2012
This meme Waiting on Wednesday is hosted by *Breaking the Spine* "Waiting On Wednesday" is a weekly event, that spotlights upcoming releases that we're eagerly anticipating.
I'm anticipating the following upcoming book(s):
by Elita Daniels
Expected Publication: August 18, 2012
Published by: ?
Pages: ?
First book in the Delicates Series. A love story with a few kinks! When Victoria meets a shy zombie in the cemetery, she discovers there is a whole strange world of the deceased and that people don't stay dead!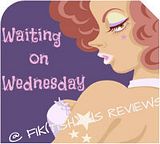 MY THOUGHTS:
I checked both Goodreads and the author's Web site for more details about this book, but to no avail. I'm hoping it does come out this month on the 18th. Love the cover! This seems to be a page-turner with a love story and of course we got to have dead people coming back to life.
Here's the author's link if you want to check out more about here and this book:
http://elitadaniels.com/zombie
*If you like the naughty side of reading, visit my new blog and see what my WoW is.*

Share your WoW! I love comments and if you don't, I'll stalk you
:P

Thanks for reading <3
Disclaimer:
I do not receive or accept any money for my book reviews. All my reviews are my honest and personal opinion. I do however, receive books from publishers and authors for free to review. These free books will never influence the content, posts, reviews, and topics made in this blog.

*Images and Synopsis is via Goodreads,unless otherwise stated*