Thursday, August 9, 2012
Get Me Off The Shelf! is inspired by *From the Review Pile from*Stepping Out of the Page* hosted by Stephanie

.
The aim of this meme is to showcase books that you own, but just haven't got around to reviewing or read yet. It could be a book you bought yesterday or years ago. Maybe you even have a few books on your eReader just waiting to be swiped to open the pages. It will also give the book some extra publicity!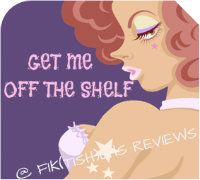 This week's 'Get Me Off the Shelf' book is on my Kindle:
A Thief of Nightshade
Kindle Edition, Pages: 314
Synopsis:
Avalar isn't real.

At least, it wasn't supposed to be.

Aubrey never expected to fall in love with and marry her graduate writing professor Jullian. His life's work, a grim fantasy titled 'A Thief of Nightshade' encompassed everything Aubrey hated about fairy tales and make-believe.

After Jullian goes missing and is eventually presumed dead, Aubrey discovers just how make-believe the world of 'Nightshade' is…

Not only is Jullian alive and well in Avalar, he's at the mercy of the Dark Fae, condemned to a fate worse than death, with no memory of Aubrey or his time in her world. In order to save him, she'll have to confront more than just the demons in her past, but the very real ones that await her in a place she never thought could exist.

All of them will do everything in their power to stop her.
Why haven't I read this yet?! I dunno ... you know I'm a junkee for covers and well, this cover is awesome coolness! The story seems good too.
Like I always say ... I'll get to it one day ... maybe.
So share what's you need to 'Get off your shelf', eReader, floor, or box . . . I love comments!
Disclaimer:
I do not receive or accept any money for my book reviews. All my reviews are my honest and personal opinion. I do however, receive books from publishers and authors for free to review. These free books will never influence the content, posts, reviews, and topics made in this blog.

*Images and Synopsis is via Goodreads,unless otherwise stated*