Wednesday, August 8, 2012
This meme Waiting on Wednesday is hosted by *Breaking the Spine* "Waiting On Wednesday" is a weekly event, that spotlights upcoming releases that we're eagerly anticipating.
I'm anticipating the following upcoming book(s):
Dancing with Death
by Andrea Heltsley
Expected Publication for Paperback: August 10, 2012
Published by: Andrea Heltsley?
Pages: 410
Murders have plagued the woods in the past, making them a place of fear. Eighteen year old Wendy and her friends become worried when a new string of murders come to their high school. After a horrible car accident, Wendy returns to school, going from wallflower to popular overnight. As the murderer edges closer to Wendy she realizes things are changing. She is afflicted with nightmares that are all too real and she herself is undergoing unnatural changes. Learning the truth about her past, could be the key to saving her future.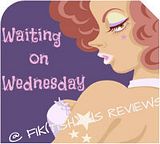 MY THOUGHTS:
This seems awesome! I have not read any of Andrea Heltsley's books before, but this one is on my TBR list.
I love the cover! Just wondering though, if there's a romance in this?
*If you like the naughty side of reading, visit my romance and erotica blog and see what my WoW is.*
Thanks for reading <3
Disclaimer:
I do not receive or accept any money for my book reviews. All my reviews are my honest and personal opinion. I do however, receive books from publishers and authors for free to review. These free books will never influence the content, posts, reviews, and topics made in this blog.

*Images and Synopsis is via Goodreads,unless otherwise stated*