Tuesday, August 14, 2012
Teaser Tuesday is a meme hosted by MizB
of *Should Be Reading*
Anyone can play along! Just do the following:
1. Grab your current read
2. Open to a random page
3. Share two (2) "teaser" sentences from somewhere on that page. BE CAREFUL NOT TO INCLUDE SPOILERS! (make sure that what you share doesn't give too much away. You don't want to ruin the book for others)
4. Share the title & amp, author too, so that other Tuesday Teaser participants can add the book to their TBR lists if they like your teaser.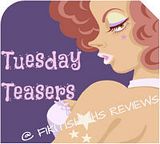 The past few weeks have been busy! It's a good busy though. I've been focusing on my writing. So I only get a chance to read in the evenings and sometimes I'm too dag tired. So I've been reading samples of Kindle books and writing down the one's that caught my attention on my TBR List. Such a looong list, ugh! Once school is back in session (in a week) and everyone is settled, I will have more time to write and read. :D
What Kills Me
by Wynne Channing
Kindle Edition
Published: June 6, 2012
Publisher: Jet and Jack Press
209 Pages
"I had stopped breathing. I felt as if, at any moment, I would melt into the floor. As he leaned in, I fixated on his parted lips and I felt his hand slip around my waist."
Disclaimer:
I do not receive or accept any money for my book reviews. All my reviews are my honest and personal opinion. I do however, receive books from publishers and authors for free to review. These free books will never influence the content, posts, reviews, and topics made in this blog.

*Images and Synopsis is via Goodreads,unless otherwise stated*