Wednesday, August 15, 2012
This meme Waiting on Wednesday is hosted by *Breaking the Spine* "Waiting On Wednesday" is a weekly event, that spotlights upcoming releases that we're eagerly anticipating.
I'm anticipating the following upcoming book:
Desire the Night
by Amanda Ashley
Expected Publication for Paperback: August 28, 2012
Kindle Edition
Pages: 351



A Vampire In Chains

Held captive in a basement prison, wrapped in silver chains, the vampire Gideon is too weak to fight the monster who enslaves him. For years, she's tapped his precious blood like a fountain of youth--sustaining him with human females she captures for his pleasure. But with the latest victim she brings him, he senses something intriguingly different. Something dangerous, yet oh so tempting.

Kay Alissano is no ordinary woman. Every full moon, she must answer the call of the wild--unleashing the wolf within. As daughter of the Shadow Pack's Alpha, Kay is extremely powerful--and when she's offered up to Gideon, she doesn't surrender easily. In wolf form, she might be able to unchain Gideon's heart and set them both free--if only he can resist the urge to consume her, body and soul, before the next full moon. . .

MY THOUGHTS: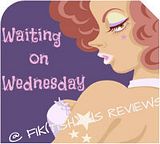 This story seems like it is a page turner! I can' wait to meet Gideon and I'm expecting a lot of suspense, and forbidden romance.
*If you like the naughty side of reading, visit my romance and erotica blog and see what's on my Wishlist.*
Thanks for reading <3
Disclaimer:
I do not receive or accept any money for my book reviews. All my reviews are my honest and personal opinion. I do however, receive books from publishers and authors for free to review. These free books will never influence the content, posts, reviews, and topics made in this blog.

*Images and Synopsis is via Goodreads,unless otherwise stated*